Welcome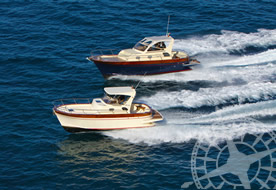 Located in the gulf of Naples, the Cantiere Navale Maresca offers experience and proven expertise in ship conversion, overhaul, maintenance and storage services for all types of pleasure boats.
The Sorrento Peninsula in the Gulf has the oldest traditions in shipbuilding.
Years of experience in our sector and careful choices have led us to a shipyard able to operate across the board.
The working range is comprehensive: not only structural interventions, electrical systems design, outfitting and renovation of modern or vintage boats, but also the application of any type of antifouling paint depending on the needs of your boat.
Among the main activities of the shipyard, there is the building of the gozzo boats for the 'Sparviero' line, Italian name for hawk.
Our history »